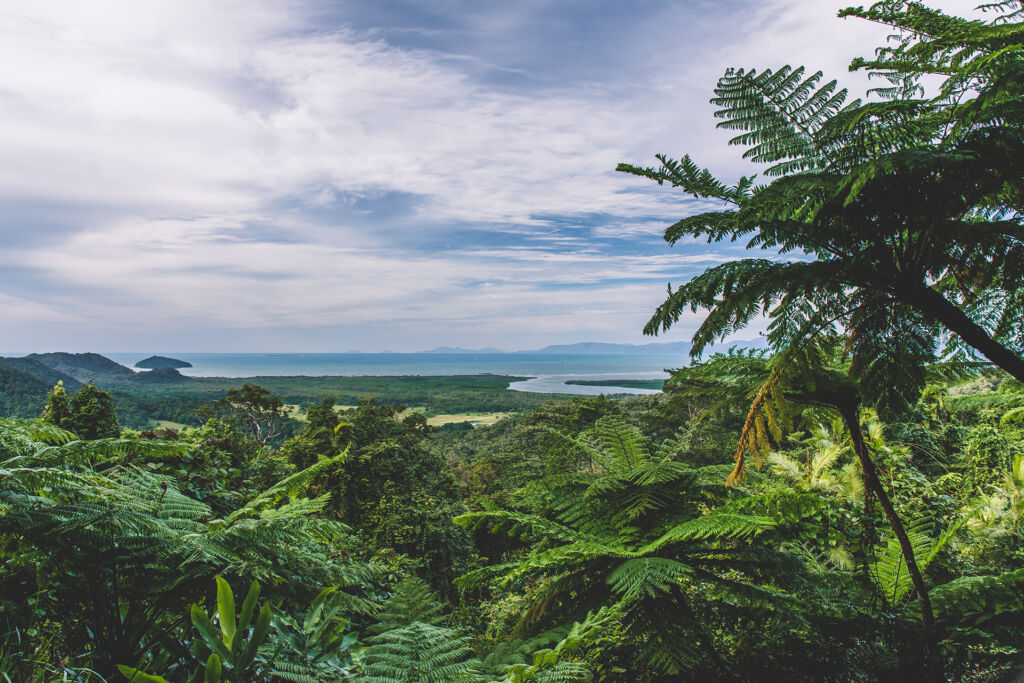 The Daintree region covers some 95km (60 miles) of tropical rainforest and wetlands between Cape Tribulation in the north and Mossman Gorge just north of Port Douglas in Tropical North Queensland. It forms part of the Wet Tropics of Queensland, a UNESCO World Heritage Site since 1988 and one of the oldest surviving areas of tropical rainforest in the world.
Encompassing lush tropical rainforest, towering mountain peaks, river valleys, dazzling white sand beaches and the Great Barrier Reef just off its shores, the Daintree region is one of Queensland's most iconic natural attractions.
This diverse environment also makes it the ideal home for an astounding range of plant and animal life, from ancient species first seen in the Cretaceous period, to rare and endangered species of reptiles, birds, butterflies and marsupials.
Conserving this national treasure is crucial, and so road access to the Daintree region is limited, with only one route providing sealed road access across the Daintree River via cable ferry and further north into the forest.
The Daintree River
The river's source is in the Great Dividing Range, deep in the heart of the Daintree Rainforest near Cape Tribulation. It meanders along for 140km (87 miles) through the rainforest and opens into the Coral Sea north of Wonga Beach.
Daintree History
The First Peoples of the Daintree region are the Kuku Yalanji. Their connection to this land goes back some 50,000 years, living in harmony with the rainforest and passing their knowledge and culture down from generation to generation.
In the 1870s, European settlers came to the Daintree region. Along with Chinese settlers they mined for gold, tin and other minerals. They also began a logging industry, cutting down red cedar trees and clearing land to farm cattle, sugar cane and other vegetables.
Daintree Rainforest Wildlife
This lush tropical rainforest is home to a spectacular range of wildlife, including many threatened species and some that you won't find anywhere else in the world.
When you board the Daintree Ferry you'll see a sign welcoming you to 'cassowary country'. These large, colourful flightless birds can be seen in the Daintree Rainforest – but if you see one, keep your distance as they can be dangerous if threatened.
Saltwater crocodiles are common in the river and its tributaries, thanks to its remote location and protected status. As a result it is not safe to swim in the Daintree River.
One third of the 315 mammals native to Australia live in the Daintree region. This includes bandicoots, platypus, possums, both species of tree-kangaroo, echidna, and quoll (carnivorous marsupials, also known as native cats). In addition, the rainforest is also home to water dragons, pythons, tree snakes, a huge variety of frogs, all kinds of freshwater fish, and vividly coloured butterflies.
Daintree Rainforest Plant Life
Visiting the Daintree Rainforest is like stepping back in time, to a lush tropical environment where around 3,000 plant species thrive. Some can only be found right here, and many are threatened by climate change, invasive species and loss of habitat.
Primitive plants grow here whose ancestors were among the first flowering plants on earth.
Highlights include the Daintree Pine/Daintree oak, the strangler fig, a staggering variety of ferns, the intriguingly named idiot fruit, the fan palm, Daintree cheese tree and many others.
Image by Tourism Tropical North Queensland